Manufacture of Polymer Compounding & Pelletizing Plant
High-concentration Additives / Color Pigment Masterbatch Plant.
Calcium Carbonate(CaCO3) Filler Masterbatch Plant.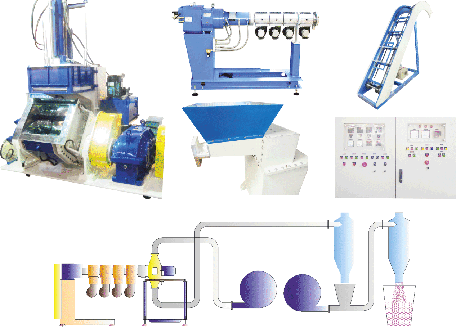 The complete plant includes

Dispersion Kneader
Conical Twin Screw Force Feeder
Single Screw Extruder

Rotary Die Face Cutting Unit
Cyclones
Conveyor
Dispersion Kneader
Intensive dispersive mixing of ingredients for excellent homogeneity.
Automatic PLC based operation for the batch preparation.
Carbide coating on squeezing lap of Rotors.
Anti failure properties of Rotors due to cyclic endurance load.
Anti wear properties of mixing chamber to ingredients of compound.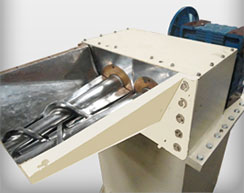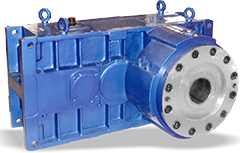 Conical Twin Screw Force Feeder
Automatic, Continuous and Uniform feeding of the compound to an extruder.
Eliminates labour intensive material handling between kneader and extruder through conveyor.
Variable speed to adjust feeding quantity.
Single Screw Extruder
Enables compounder to extrude multitude of compounds into usable form Pellets.
Nitride Steel of Barrel & Screw. Treated for Wear resistant.
Precise temperature control system.
High Torque Precision Helical Gear Box.
AC Drive for variable speed of screw
Die Face Cutting System
Die Face Cutting into Pellets which are conveyed and cooled by either High speed Air or Water.
Retractable Die face cutting unit with electric motor on sliding tie rods.
A C Drive for variable speed of Rotary Cutter. Possible different size of pellets.
Air cyclone to cool down the cutted pellets.
Consistent, Uniform, Smooth Pellets.
Applicable Materials Like LLDPE, LDPE, HDPE, EVA, and PVC etc.
Control Panel
Include PID System
Safety to Overload, Overshooting of Temperature, Clash in functional movements.
Coded Standard Wiring and Electrical Switch gears
Optional - PLC based. Touch Screen Controls.