Application
Dispersion kneader is being used for following such applications:
Rubber Compounding
Nitrile Rubber (NBR) + Filler
Natural Rubber (NR) + Filler
Hypalon (CSM) + Filler
Styrene Butadiene Rubber (SBR) + Filler
Blend of NBR+NR+SBR + Filler
Blend of NR + SBR + Filler
Neoprene (CR) + Filler
EPDM + Filler
Blend of CSM + NR + Filler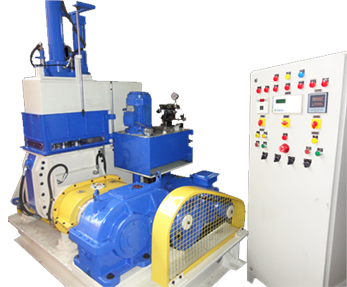 The Following fillers can be compounded with base materials.
Non-Reinforcing
CaCO3
CALCITE
WHITING –TiO2
TALCOM
Reinforcing
Carbon N330
Carbon N550
Silica – VN3
Loading of Filler is possible more than 200% PHR.
The Pigments (Color), Accelerator, Retarder, Anti Oxidant, Zink Oxide, Plasticizer, are being used during this compounding.
Polymer Compounding
Polyethylene (PE) Master batch Compound
Polypropylene (PP) Master batch Compound
Color & Black Master batch Compound
Polymer Pencil Compound - Poly Styrene Base Compound
Pencil Lead Compound
Nylon + Ferrite Compound
EVA Compound for Sole
LDPE, LLDPE, HDPE + Filler
TPE + Filler
HIPS , ABS + Filler