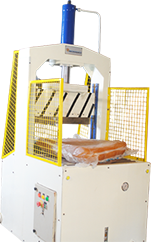 Standard Rubber Bale Cutter
Suitability of maximum Rubber bale dimensions.

Width - 600mm,Thickness- 300mm, Can accommodate any synthetic rubber bales and natural rubber bales.

Maximum Shear Cutting Force

15 Tonne / 150KN.

Material of Cutting Blade

Alloy Steel Specially Treated for uniform hardness for long lasting cutting edge. Keeps going and going in cutting of rubber bales.

Operation

Hydraulic Operational. Hydraulic Cylinder with seals of BUSHAK SHAMBAN, German make.

Stroke of Blade Maximum to 350mm.
Adjustable stroke by two limit switches from 200mm to 350mm.
4 to 6 cuts per minute.
Material of Roller

Stainless steel.

Travel Guide of Blade Mounting Plate

Guided both side with Bronze Bushes & Hard Chrome, Ground & Burnished Guide Rods.

Safety for Blade cutting edge.

Provision of Restrictors - Prevents blades to come down beyond set stroke. This Prevents the damage of cutting edge of blade. Provision of Soft Pad prevents damage of cutting edge at the end of cutting stroke.

Safety - Care to your Ten Fingers

Two Push Buttons for Operation of blade. Two Limit switches for stroke adjustment and for prevention of damage of blade. Include emergency stopper.
Safety guards - people protection

Provided two nos. at front and two nos. at back of cutting blade. Position at right and left sides.

Compact size of machine

4.5 ft (L) x 4 ft (w) x 7 ft (H) , approx.

Optional

Inclusion of Stopper Slide Mechanism at back Side
Our Customer
Gold Seal - SAARGUMMI India Pvt. Ltd, Mumbai.
Ashutosh Rubber Products - Rajkot.
Inarco Limited, Bhavnagar.
Tayalco - Himachal Pradesh
Print O Tex Rolls- Bangalore
Shakun Polymers Limited. Halol. Guj
Kris Polymers, Kanpur, Uttar Pradesh.
Shreeji Rubber - Gandhinagar.
Kesariya Rubber Industries Pvt. Ltd. Gurgaon
PHE Sealing Solutions Pvt. Ltd, Gurgaon
Pulsar Rubber mfg co, pvt. Ltd, Pune
Photos