Batch Preformer
Feeding the compound to Extruder, automatic and continuous, eliminates material handling process between mixer / Kneader and extruder.
Preform the lump / batch compound into Slab.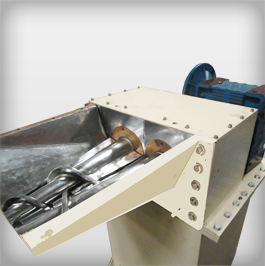 Technical Features
Specially Designed Mirror Polished, Nitrided, Hard Chrome Platted Taper Screws (En41B material).
Mirror Polish & Hard Chrome Plated of Cone shaped taper Halves - barrel & Hopper.
The twin feed screws and barrels are precision machined to maintain tight average clearances.
Hard Chrome Platted Hopper to accommodate lump of Plastics prepared in dispersion Kneader or Mixer.
Driven by Geared Motor through alloy steel, harden taper connecting gears.
Front Mounting of Force feeder is in accordance with fitting dimensions at transition zone of the extruder.
Preform the lump / batch compound into Slab.
Variable speed.
Benefits
Eliminates labour intensive material handling process between the Mixer, kneader and existing conventional Extruders.
Simple, automatic and continuous operations.
Large volume hopper capacity 30 to 50 kg.
Easy access for cleaning
Easy maintenance.
Especially effective for soft compounds.
Application
The following materials can be processed with Force Feeder and can be preformed into Slabs.
Rubber
Silicone
Plastic
Flexible magnetic compound
Adhesive