Technical Features
Hydraulic Operational

The hydraulic ram exerts positive pressure on the batch and can be accurately controlled in the desirable position which leads to better dispersion of ingredients & batch to batch consistency.
No need of air compressor. In case of pneumatic cylinder, ram moves completely un-controlled and the ram position is controlled by the rotor dragging force as well as the size of rubber pieces / Poymer / Elastomer it is trying to force into the rotors.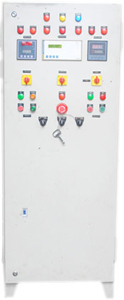 Design

The design of wider rotor tip width & stubby in shape helps in large smearing action on ingredients of compound. The differential rotation of rotors and minimum clearance between rotor tips to chamber impart extensive Tearing, Stretching and Squeezing of ingredients of compound. This greatly enhances dispersion effect and quality kneading of ingredients.
Effective cooling inside rotor's wing and surrounding jacket enables compound to be mixed at significant lower temperature.
Good reinforcement of structures therefore no jerk during operations. Robust construction.
Compact in size.
Design at two or more service factor, therefore less maintenance and longer life.
Coded Wiring. Safety with interlock electrical cercuits.
Wear resistant coat

Boron Carbide coating on external diameter of rotors.
Helical Gear Box

Material of gears / pinion is forged alloy steel (SAE 8620/20MNCR5). Heat treated & Ground gears.
Power pack & Hydraulic cylinders

Dowty make gear pump, Euken make solenoid valves. Hydraulic seals are of BUSHAK SHAMBAN, German make.
Minimal Noise & Vibrations

The operations are at minimum / negligible level of noise and vibrations.
Auto operation for Ram

Micro processor base programmed for two stages - Mastication and Kneading with ingredients.
This controls the up and down movement of pressure ram based on set current loads at set time. This shall enhance faster batch preparation and consistency in batch preparations. Operator's Convenience.